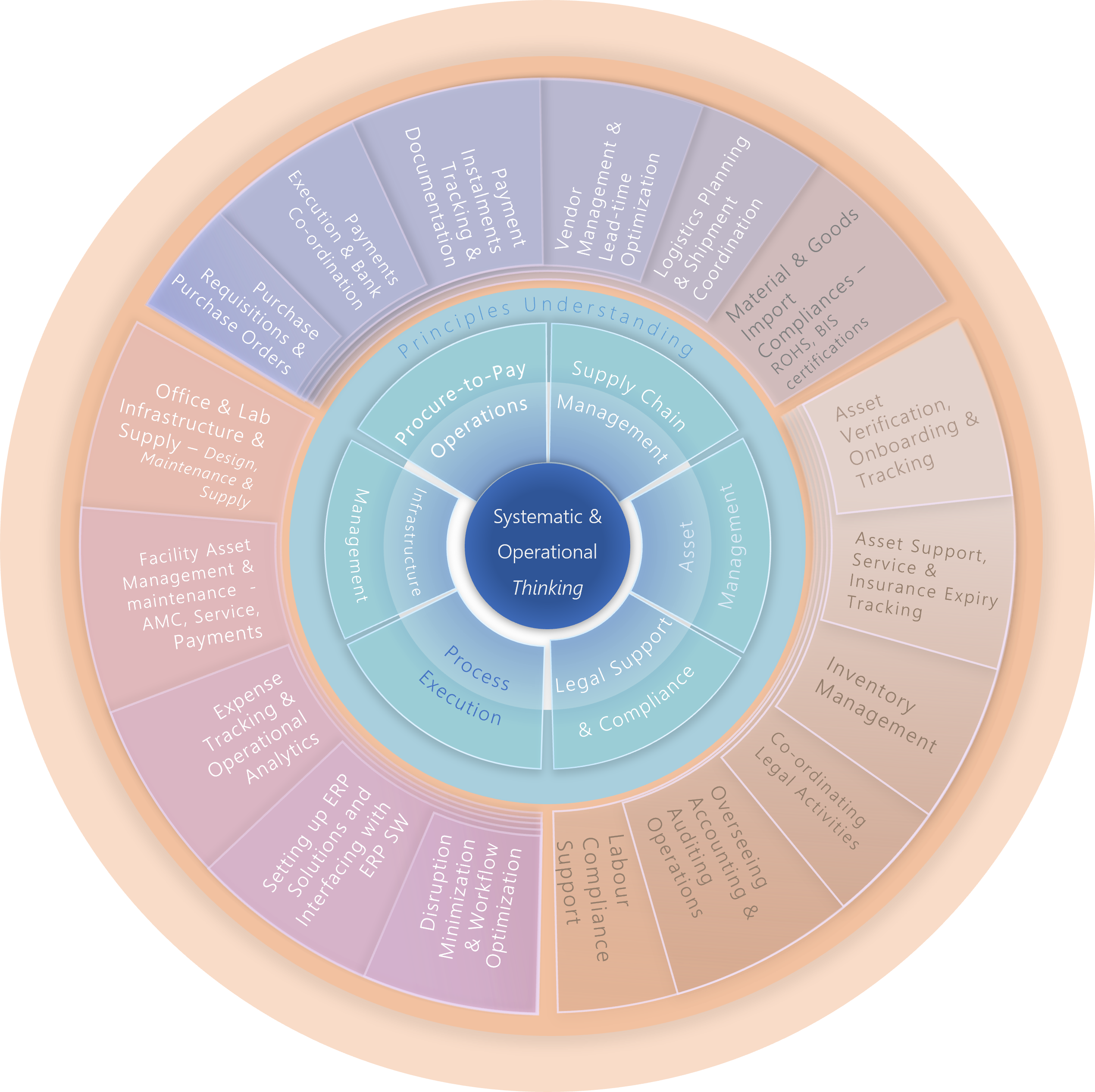 This role is the "Lubrication between the Org & every entity of this complex Supply Chain Ecosystem" that ensures a smooth and connected functioning of all Parts

A Tech is invented 'more' amongst the vendors than within the organization. Hence, an org is built more by the invisible workforce of the vendors than by its own. A lack of organization between these vendors accumulates into a dependency nightmare. Coupled with the unpredictability, this has limited and reduced HW heavy businesses to be not agile, slow, costly and unscalable when compared to SW ecosystem.
Mobilizing the vendors to align with organizational goals is the make-or-break deal for a HW Heavy organization.
Yet every organization underestimates the amount of Facilitation and Organizing that is needed to ensure a conducive environment for such alignments to happen. Starting from interfacing with Legal bodies that allow us to have this material transaction, to the vendors who help us run this organization with supply and service, till the workplace is the Environment where the organization is run, every action needs to be managed to be uninterrupted. Communication – thorough & influential, is a foundational skill. Penchant for anticipating human error and pre-empt with operational nuance is the accomplishing skill.
Your primary contribution will be towards end-to-end setup, formulation & coordination of Supply Chain.
Supporting CynLr's Procure-to-Pay Activities

Understanding the nuances, reviewing the terms of Purchase order, verifying on every line items for replacements, refund terms, tax complications, coordinating shipping terms and warranty terms.
Preparing purchase requisitions and generating purchase orders in timely and accurate manner to ensure smooth flow of purchase activities across all business operations.
Executing Intra-national & international payments, providing requested documentation to Banks or third-party payment vendors, handling incoming queries, and drafting responses.
Following up on partial order fulfilments, assisting in tracking and documenting partial payments, scheduling future payments.

Facilitating CynLr's Vendor Management Activities

Vendor Identification, vendor due-diligence, comparative & competitive quote & study, vendor negotiations, pricing modals, payment schemes & schedules, credit term negotiations on bulk quantities, and managing stocking options.
Executing and managing vendor contracts, and coordinating with vendors for lead-time optimization
Regularly following up with vendors to maintain active relationship – relationship health check, account manager/salesperson change, hierarchy change in the Vendor organization, collecting information for vendor related risks and delays in future procurement.
Identifying vendor risks and developing alternate vendors, by researching and initiating discussions with alternate vendors.
Product line change, product – end of Life, price revisions, product upgrades, new product availability, part number change, component updates and alternatives tracking.

Managing CynLr's Logistics & Transportation Activities:

Shipment Tracking & Compliance Co-ordination: Preparing document submissions, and payments, to freight partners and imports authority, to ensure smooth import of goods.
Material inbound: Receiving goods and related documentation, tracking the expected and actual lead times, unpacking, coordinating package material, coordinating goods & warranty inspection.
Material Outbound & Shipment: Figuring out the shipping partner, preparing gate pass & shipment related documentation – e-way bill, coordinating packaging, coordinating reception at the destination, coordinating installation.

Aid in CynLr's Asset Management Activities:

Asset Tracking & Maintenance: Assigning asset serial no. and batch no., personnel, geographical assignments, coordinating installation/replacement of assets, tracking warranty and service schedules, facilitating any incident management activities.
Inventory Management: Triggering verification & validation of the received material with corresponding team – testing components, devices, etc for Dead on Arrival. Upon failure, coordinate replacement – initiate RMA. Coordinate installation, training, and support for the component from the vendor. Tracking rate of consumption of assets and consumables, re-ordering of Inventory levels.
Ensure lab and office facilities are always organized and fully functional by overseeing the maintenance and serviceability of Lab & Office equipment; ordering Lab & office supplies to restock when necessary – Facility Equipment AMCs - HVAC, MEP, Conferencing & IT infrastructure, etc

Spearheading CynLr's Legal Support & Compliance Activities

Legal Support: Co-ordinating with the legal team to prepare contract/agreement drafts.
Tax related Compliance: Overseeing expense accounting by CA/accounting personnel for annual income tax and ROC filings. Co-ordinating for charging, contribution/paying and periodical filings of TDS, PT, and GST.

Participating in CynLr's Performance Tracking & Workflow DesignActivities

Assessing ERP tools, coordinating the setup of ERP tools, design workflow models on ERP tools based on industry best practices, generate analytics by tracking 'right' data and create business Insights for optimizing operations and supply chain, coordinating feature upgrades requests to enable better productivity on Operations.
Experience/ Domain Knowledge:

Experience in Purchase process is a must.
Experience with ERP tools is a must.
Experience with Payments, Banking interface.

Skills:

Excellent professional communication skills, persuasive & business communication savvy.
Excellent with performance tracking and workflow design.
Excellent with hustling to figure out disruption minimization.
Excellent with organization, documentation, and interfacing with external entities.

Behavioural Tendency:

Critical Thinking, Available, Responsible, Versatile, Resourceful, Thorough & Attention to Details.

Tool knowledge:

Excel spreadsheets, QuickBooks, any ERP software, net banking, government compliance portals.
We envision this role to be the genesis of what would eventually be a foundational pillar for all the Supply-Chain, Payments & Vendor Management.
The problem that we solve is multi-disciplinary, which interfaces with stakeholders from almost every Engineering Industry and every variety of strata in it. This brings a challenge of coming up with a unique approach every time to deal with every different stakeholder. While this quickly gets into a demanding, unpredictable, and heavy Context Switching problem. However, if looked at it as an opportunity, it allows for a deep exposure to a rich variety of management and operational problems and opens door for plenty of alternate career options.

Needless to say, the exciting yet demanding part of a start-up - every passing day, the Company grows and the needs change, expansively.
In this context, beyond becoming a Specialist in the current Role, which will grow as the organization expands, it also opens doors, and the role can evolve into Technology & Vendor Discovery, Operations Specialist, Supply Chain & Vendor management, Merger & Acquisition, Risk Auditing, etc.